MY BATHROOM PROJECT│WHAT TO CONSIDER FIRST
UPDATING OR BUILDING A NEW BATHROOM IS ONE OF TODAY'S MOST POPULAR HOME REMODELING PROJECTS. THE MODERN BATHROOM HAS BECOME STYLISH, EFFICIENT, AND COMFORTABLE, IF NOT DOWNRIGHT LUXURIOUS. A NEWLY REMODELED BATHROOM CAN ADD IMMEASURABLY TO YOUR COMFORT AND ENJOYMENT, AS WELL AS RAISE THE VALUE OF YOUR HOME.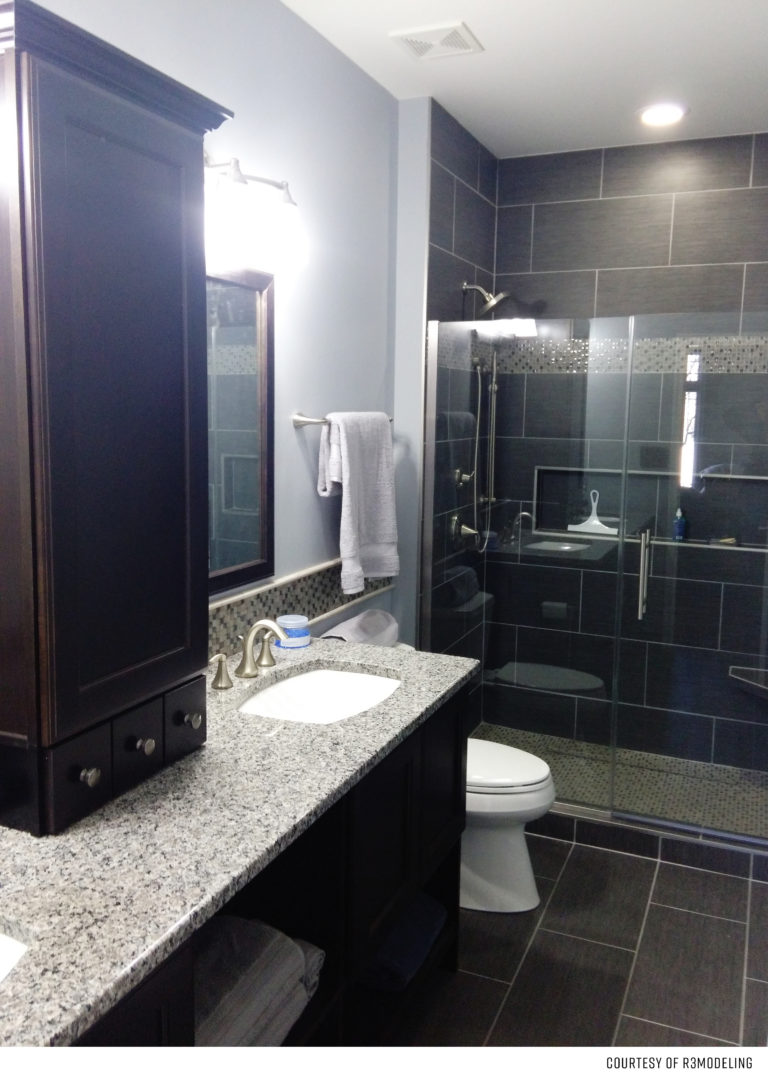 5 THINGS YOU NEED TO KNOW BEFORE REMODELING YOUR BATHROOM
1. SEEK PROFESSIONAL ADVICE BEFORE PLANNING A BATHROOM REMODEL
YOU MAY NEED TO CONSIDER LOCAL WATER REGULATIONS, EXISTING PLUMBING FACILITIES AND THE WAY YOUR HOUSE IS CONSTRUCTED.
2. DEFINE THE ROLE AND REQUIREMENTS OF THE NEW BATHROOM
PLANNING A BATHROOM REMODEL INVOLVES MORE THAN THE POSITIONING OF BASIC FIXTURES SUCH AS THE BATH, BASIN AND TOILET.
MAKE SURE YOUR PLAN ALLOWS FOR PLENTY OF FLOOR FOR WALL SPACE AND FOR EXTRAS SUCH AS TOWEL RAIL, MIRROR AND STORAGE.
3. DECIDE IF YOU NEED TO MAKE ANY CHANGES TO EXISTING SERVICES AND WHETHER STRUCTURAL WORK IS REQUIRED
MEASURE UP AND NOTE THE POSITION OF THE EXISTING SERVICES, WINDOWS AND DOORS AND WORK OUT THE PLAN TO GET THE BATHROOM FIXTURES WHERE YOU WANT THEM. YOU WILL ALSO NEED TO DECIDE IF YOU NEED TO MOVE ANY DOORS, WINDOWS OR WALLS AND WHETHER YOU NEED TO MAKE CHANGES TO THE ELECTRICAL WIRING, WATER AND DRAINS.
4. DRAW OUT THE BATHROOM AREA ON GRAPH PAPER AND WORK OUT HOW BEST TO DIVIDE UP THE BATHROOM DESIGNS IDEA FOR DIFFERENT PURPOSES OR TASKS YOU MAY NEED TO CONSIDER WHETHER TO USE DOUBLE OR SLIDING DOORS, ARCHWAYS OR CURTAINS.
5. ENSURE THAT YOU HAVE ENOUGH SPACE TO ACCOMMODATE YOUR CHOSEN FITTINGS AS WELL AS ENOUGH ROOM TO MOVE THEM INTO POSITION THINK ABOUT HOW MUCH ROOM WILL BE REQUIRED FOR TOILETRIES, STORING TOWELS, MEDICINES, ETC.