MY BASEMENT PROJECT│WHAT TO CONSIDER FIRST
IF YOUR ILLINOIS HOME HAS A FINISHED OR UNFINISHED BASEMENT, REMODELING IS LIKELY THE MOST AFFORDABLE WAY TO ADD A LARGE AMOUNT OF ADDITIONAL LIVING SPACE TO YOUR HOME. IN THE WILL, COOK & SURROUNDING AREAS, BASEMENT REMODELING PROJECTS PROVIDE HOMEOWNERS WITH YEAR ROUND ENJOYMENT. THERE ARE A LOT OF THINGS TO CONSIDER WHEN REMODELING A BASEMENT. IS A BATHROOM AND/OR BEDROOM DESIRED? WOULD YOU LIKE ADDITIONAL DAYLIGHT IN THE BASEMENT? WE WOULD BE HAPPY TO VISIT WITH YOU AND GO OVER YOUR OPTIONS.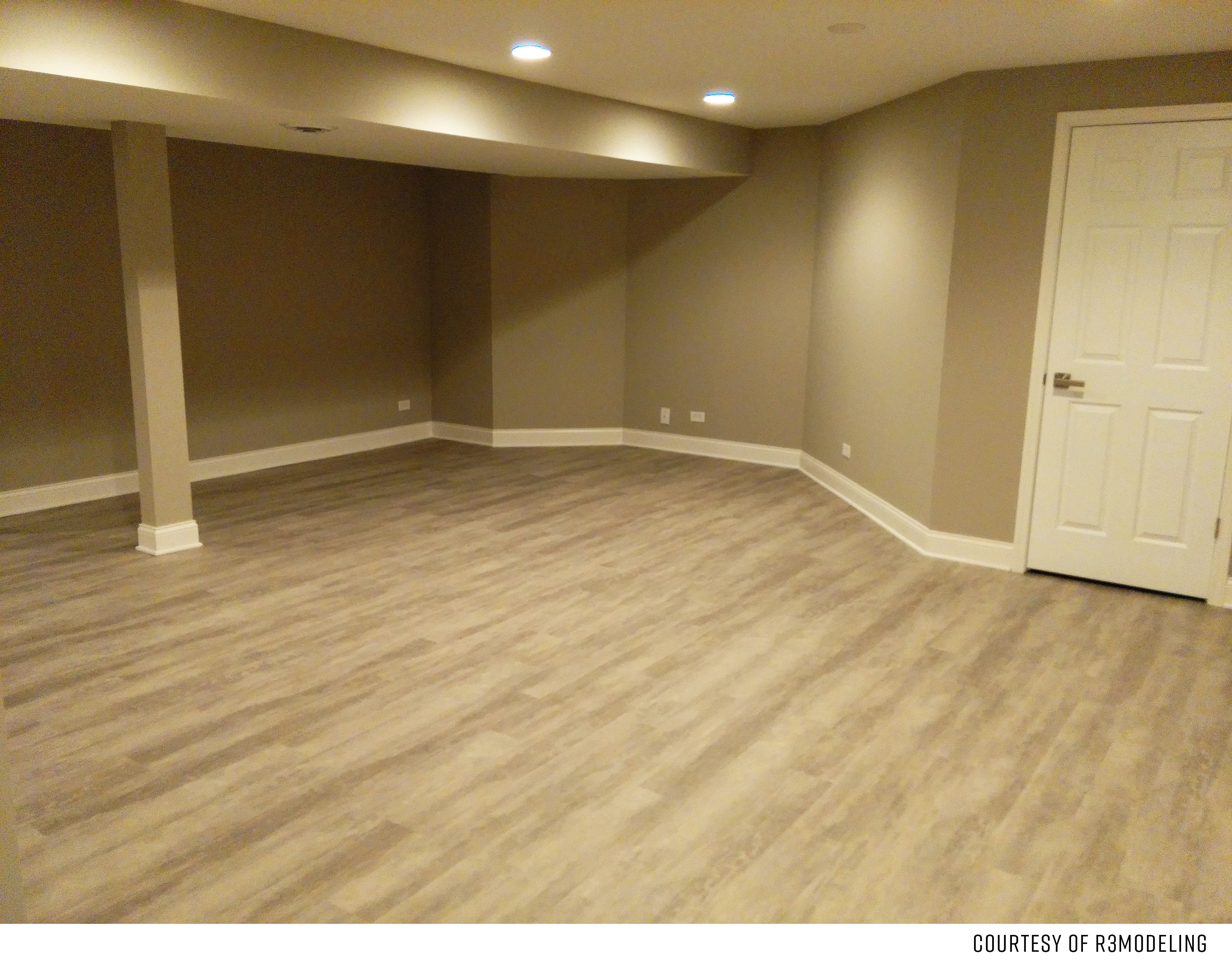 6 "MUST HAVES" IN YOUR NEW BASEMENT
1. SOLVE BASEMENT WATER PROBLEMS FIRST
EVEN IF YOUR BASEMENT RARELY HAS PROBLEMS WITH DAMPNESS OR FLOODING, IT'S BEST TO SOLVE THE PROBLEM COMPLETELY BEFORE BEGINNING ANY REMODELING WORK. PERMANENT SOLUTIONS CAN TAKE TIME TO IMPLEMENT HOWEVER MANY BASEMENT WALL CRACKS CAN BE REMEDIED WITHIN A WEEK TO TWO WEEKS TIME FRAME. A GOOD PLACE TO START IS TO CONTACT A CERTIFIED TECHNICIAN WHO SPECIALIZES IN WATERPROOFING FOUNDATION WALLS. IF YOU HAVE TRIED WATERPROOFING SOLUTIONS TO YOUR SEEPAGE PROBLEM IN THE PAST AND THE PROBLEM PERSISTS, YOU MAY WANT TO GET A SECOND OPINION. THERE IS A STRONG POSSIBILITY YOUR FIRST TECHNICIAN FAILED AT ADDRESSING YOUR UNIQUE SEEPAGE ISSUE WITH THE CORRECT WATERPROOFING METHOD. YOU MAY ALSO CONSIDER GOING WITH A SUBFLOOR TO CREATE A BARRIER BETWEEN THE FINISHED FLOOR AND THE CONCRETE. NEW TECHNOLOGY LIKE DRICORE'S SUBFLOOR SYSTEM OFFERS HOMEOWNERS WITH THE LATEST IN SURETY AND COMFORT FOR ANY BASEMENT FLOOR, OFFERING A VAPOR BARRIER, NON-POROUS UNDERLAYMENT, AND A GAP LARGE ENOUGH FOR WATER TO RUN UNDER AND EVAPORATE LATER WITHOUT DAMAGING THE FINISHED FLOOR.
2. DECIDE ON THE BEST USE OF YOUR BASEMENT
BASEMENTS ARE NOW MORE THAN EVER BECOMING AN EXTENSION OF A HOMEOWNER'S LIVING SPACE, AND AS RESULT OF THE USUALLY LARGE SPACE BASEMENTS OFFER MANY DESIGN IDEAS CAN BE IMPLEMENTED. THAT BEING SAID, CONSIDER USING THE SPACE FOR ACTIVITIES FOR WHICH TYPICAL BASEMENT CHARACTERISTICS OFFER NATURAL ADVANTAGES. THE LACK OF LIGHT IS USEFUL WHEN SETTING UP A HOME THEATER OR A DARK ROOM. THE ISOLATION HELPS CREATE A SOUND BREAK FOR A PLAY AREA, A TEENAGER'S HANGOUT OR A PLACE TO PRACTICE A MUSICAL INSTRUMENT. ALSO, IN BASEMENTS, THERE IS USUALLY READY ACCESS TO THINGS LIKE WATER LINES AND HEATING AND COOLING DUCTS. THIS MAKES ADDING A BATH EASIER THAN IT WOULD BE ELSEWHERE IN THE HOUSE.
3. GET HELP WITH YOUR BASEMENT DESIGN
WHILE YOUR BASEMENT MAY NOT BE MUCH TO LOOK AT NOW, YOU'LL WANT TO END UP WITH QUALITY LIVING SPACE WHEN THE PROJECT IS COMPLETE. OUR DESIGN EXPERTS CAN HELP YOU GET THE MOST OUT OF THE SPACE. A LITTLE FORETHOUGHT AND CAREFUL PLANNING NOW CAN HELP YOU CREATE A SPACE THAT IS ATTRACTIVE, COMFORTABLE AND USEFUL.
4. PAY ATTENTION TO AIR CIRCULATION
WHEN YOUR HOME WAS FIRST BUILT, THE ODDS ARE THAT THERE WERE FEW IF ANY REGISTERS OR VENTS INSTALLED IN THE BASEMENT. WHEN YOU FINISH YOUR BASEMENT, YOU NEED TO THINK ABOUT THE NEED FOR GOOD AIR CIRCULATION, ADDING OPENINGS WHERE NECESSARY. YOU'LL ALSO HAVE TO INCLUDE A RETURN AIR DUCT, FOR ADEQUATE AIR CIRCULATION MOST BASEMENT NEED ONLY ONE RETURN BUT MAKE SURE TO CONSULT WITH YOUR DESIGNER TO SEE IF ADDITIONAL RETURNS ARE NEEDED. TO BE ON THE SAFE SIDE, INSTALL A CARBON MONOXIDE DETECTOR IN YOUR BASEMENT SO THAT YOU'LL HAVE AN EARLY WARNING OF ANY PROBLEMS WITH THE VENTING OF THE FURNACE OR ANY OTHER MAJOR APPLIANCES.
5. MAXIMIZE YOUR BASEMENT'S NATURAL LIGHT
FOR MANY REASONS, YOU'LL PROBABLY WANT TO ADD MORE LIGHT IN YOUR BASEMENT. IF PARTS OF THE BASEMENT EXTEND ABOVE THE GROUND, YOU CAN ADD NEW WINDOWS OR ENLARGE EXISTING ONES. IF THAT ISN'T POSSIBLE, ANOTHER OPTION IS TO DIG WINDOW WELLS. WINDOW WELLS CAN INCREASE THE ODDS OF WATER PROBLEMS, SO IT'S A GOOD IDEA TO BUILD ONES WITH ATERPROOF COVERS. ANOTHER ADVANTAGE OF ENLARGED WINDOWS IS THAT THEY PROVIDE ALTERNATIVE ESCAPE ROUTES IN CASE OF FIRE. ONE CONCERN THAT SOME PEOPLE HAVE ABOUT BASEMENT WINDOWS IS THAT THEY PROVIDE THIEVES WITH IDEAL ACCESS TO THE HOME. ONE WAY TO MITIGATE THAT RISK IS TO INSTALL GLASS BLOCK WINDOWS (RATHER THAN CONVENTIONAL WINDOWS) AT HIGH-RISK LOCATIONS. MAXIMIZE THE EFFECT OF REGULAR WINDOWS BY MOUNTING SOME WINDOWS IN THE INTERIOR WALLS BETWEEN ROOMS THAT OPEN PATHWAYS FOR NATURAL LIGHT TO REACH INTERIOR ROOMS.
6. CONCENTRATE ON THE BEST INSULATION PLAN TO MITIGATE THE POSSIBILITY OF MOLD GROWTH
FOR MANY REASONS TRADITIONAL PRACTICES OF INSULATING INTERIOR CONCRETE WALLS CAN LEAD TO MOLD GROWTH, DECAY AND FOUL ODORS. WE WOULD BE HAPPY TO DISCUSS WITH YOU THE NEWEST AND SAFEST TECHNIQUES IN INSULATING YOUR NEW LIVING SPACE IN ORDER TO KEEP YOUR FAMILY SAFE.